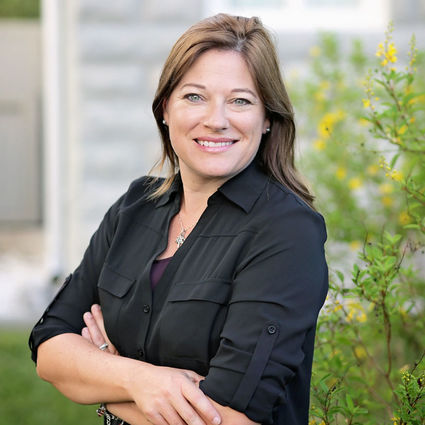 Christine Pope
Licensed Florida REALTOR®
Meet Christine...
and why I love real estate
A full 93% of all home sales start with people just like you looking online. A realtor who will serve you well is one who knows how to market your home strategically online to get your house in front of the highest number of qualified buyers possible. Who better to sell your house than a realtor who has spent 15 years (and counting!) at the forefront of online marketing?
Christine managed the marketing department for a large organization and spent years fine-tuning her online marketing skills on platforms like Google, Facebook, Instagram, Waze, Spotify, text and email marketing and more before venturing into real estate. Today, she still uses those skills and more to effectively market homes to Sarasota residents as well as cross-country and international buyers.
Christine holds a bachelor's degree from the University of Michigan, is certified as a Pricing Strategy Advisor (PSA) in home pricing, and is a member of the Institute for Luxury Home Marketing. She's also a member of the Sarasota Real Estate Investor's Association, the American Marketing Association, and is the only real estate agent in Sarasota and Manatee Counties that is also a Google Certified Partner.
What does that mean for you? Christine knows how to get your home noticed online, shown to qualified buyers, and SOLD for the best price possible.
Wouldn't it feel great to know you have an expert like Christine on your side getting your house sold?
Aside from her marketing expertise, Christine has a network of home stagers, lenders, real estate attorneys, handymen, electricians, plumbers, lenders, home inspectors, pest control, painters, deep clean housekeepers, power washers, roofers and just about anything else you could possibly need to help get your home ready to sell.
Licensed Realtor (full time, and then some!)
American Marketing Association Member
Institute for Luxury Home Marketing Member
Certified Google Partner
Bachelor of Arts
Pricing Strategy Adviser
Keep Sarasota County Beautiful Board Member
City of Sarasota resident
National Association of Realtors Member
Realtor Association of Sarasota and Manatee County Member
Sarasota Real Estate Investors Association Member
Are you ready to hire the best? Make an appointment with Christine by calling 941-685-5565.
My clients are awesome
and here is what they are saying
"Christine was a pleasure to work with in selling our Condo. Not only did she go above and beyond, but she was warm and friendly. She listened to all our needs and responded with much knowledge and professionalism. My husband and I never actually met Christine in person( we live in another state, up north), but we're very comfortable with her guidance. We closed within 3 weeks, above asking price. We highly recommend her for ALL your real estate needs! Thank you, again, Christine.. we appreciate all you did for us!
Donna M."
Donna Mazzarisi
New Jersey
"Christine was able to work with us living out of state. She drove to the place we found and videoed it for us. She helped us through the entire process. After the sale, she continues to help us get acclimated to our new area. We don't know what we would do without her!"
"We can't say enough about how wonderful our experience was working with Christine as our Realtor. She was extremely helpful throughout the process of selling our home! From the very beginning she helped us understand the steps along the way and what to expect. She was incredibly responsive whenever we called or texted her with questions, and that was greatly appreciated! Her knowledge and attention to detail were beyond exceptional, working with her made all the difference for us. In fact, when we went to the title company to sign the papers, the staff there even commented to us that Christine is one of their favorite Realtors to work with because she's so detailed and precise in her work. She's highly respected and we can understand why. We're so grateful to have had Christine as our Realtor!"
C.R.
Her knowledge and attention to detail were beyond exceptional, working with her made all the difference for us.
"Excellent process from start to finish, always in touch and available if needed, thorough knowledge of all the steps in selling of property. Very good at her job, highly recommended!"
"Christine was of huge assistance even after we purchased our home. Which was so helpful for us as we were purchasing abroad. She went above and beyond!"
"I would recommend Christine Pope as a realtor for anyone who is planning to buy a home. Knowledgeable, honest, patient, friendly, reliable- these are a few of the good qualities she reveals working with a client."
"My wife Barbara and I found Christine almost by accident, picking up her card at an open house. We contacted her and let her know our situation, that we were waiting for our house in Atlanta to go on the market and that we couldn't do anything until it sold, but we wanted to take advantage of the time we had to get to know Sarasota better. Christine took the time to sit down and help us through our "must have", "nice to have", and "uh-uh, no way" list. She showed us several properties that we knew would be off the market when our home sold to give us a good idea of what Sarasota had to offer.

I was out of the country on business when my Barbara emailed me with a near-perfect house. Christine went above and beyond to help me get all the paperwork signed and to the right people, an exceptionally difficult task given I was several thousand miles away. Like I said, above and beyond. When we found out that the buyer for our home in Atlanta could move their closing date up a little, she helped to move things up for our new home, getting us in almost a week ahead of schedule.

I can't recommend Christine highly enough, she got to know us and helped us get past all the hurdles, especially figuring out a new state's housing market."
"Christine was very responsive to every one of our requests to view properties as well as recommending properties that fit our needs. As our buyers agent she was able to professionally and clearly deliver our offer to the seller which ultimately resulted in a positive experience for all parties."
"Christine was amazing to work with! She went above and beyond our expectations. She worked with us for months as we were out of state. When we purchased she was wonderful in taking care of things we were unable to. Even after we closed she continued to go the extra mile for us! She is helped us with everything and continues to do so! Best realtor I have ever worked with! Thank you Christine!"
"Christine is amazing to work with! Very attentive, responds quickly, works around the clock, and explains things well. I am a first time home buyer and Christine made the process very easy. I never felt like a question was stupid, even though I know I had a couple. We worked diligently for months until we found the right property. I could not be happier! If you're looking for someone who pays attention to detail and isn't afraid to work hard on your behalf, give her a call. You can thank me later"