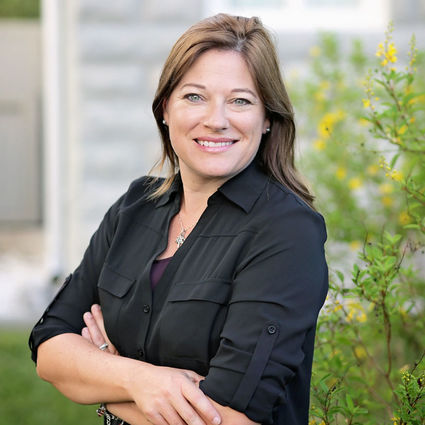 Christine Pope
Licensed Florida REALTOR®
Meet Christine...
and why I love real estate
A full 93% of all home sales start with people just like you looking online. A realtor who will serve you well is one who knows how to market your home strategically online to get your house in front of the highest number of qualified buyers possible. Who better to sell your house than a realtor who has spent 15 years (and counting!) at the forefront of online marketing?
Christine managed the marketing department for a large organization and spent years fine-tuning her online marketing skills on platforms like Google, Facebook, Instagram, Waze, Spotify, text and email marketing and more before venturing into real estate. Today, she still uses those skills and more to effectively market homes to Sarasota residents as well as cross-country and international buyers.
Christine holds a bachelor's degree from the University of Michigan, is certified as a Pricing Strategy Advisor (PSA) in home pricing, and is a member of the Institute for Luxury Home Marketing. She's also a member of the Sarasota Real Estate Investor's Association, the American Marketing Association, and is the only real estate agent in Sarasota and Manatee Counties that is also a Google Certified Partner.
What does that mean for you? Christine knows how to get your home noticed online, shown to qualified buyers, and SOLD for the best price possible.
Wouldn't it feel great to know you have an expert like Christine on your side getting your house sold?
Aside from her marketing expertise, Christine has a network of home stagers, lenders, real estate attorneys, handymen, electricians, plumbers, lenders, home inspectors, pest control, painters, deep clean housekeepers, power washers, roofers and just about anything else you could possibly need to help get your home ready to sell.
Licensed Realtor (full time, and then some!)
American Marketing Association Member
Institute for Luxury Home Marketing Member
Certified Google Partner
Bachelor of Arts
Pricing Strategy Adviser
Keep Sarasota County Beautiful Board Member
City of Sarasota resident
National Association of Realtors Member
Realtor Association of Sarasota and Manatee County Member
Sarasota Real Estate Investors Association Member
Are you ready to hire the best? Make an appointment with Christine by calling 941-685-5565.
My clients are awesome
and here is what they are saying
"My husband and I decided to purchase an investment home in Sarasota. We had very specific requirements that were difficult to meet. Also the timing wasn't the best. It was a sellers' market and homes were selling well above asking with multiple offers being the norm. Christine not only met but exceeded all expectations. She constantly kept an eye out for appropriate listings and got us in to see the homes the moment they were listed. Christine always answered our questions and concerns in a timely manner and researched answers when necessary. She continued to be available to us throughout the entire process and expedited things whenever it became necessary. She was always kind, thoughtful, and wonderful to work with. We highly recommend her and will ask for her help in future real estate ventures. Thanks Christine for a job done magnificently well."
Judy Cyre, Sarasota - Buyer/Investor
"We had a home in Sarasota County which we needed to sell and we didn't know where to begin.
We contacted Christine Pope from a list of realtors and we couldn't be more pleased. Christine went above and beyond on several occasions to help us sell the property during the pandemic despite the fact that we live in Canada and could not fly to Sarasota. Christine worked closely with our family, our attorney in Canada as well as the law firm in Sarasota County.
Christine successfully sold the property for more than we expected and assisted us every step of the way..well beyond the closing. She is a warm and caring professional and we will be forever grateful. We highly recommend her."
P T - Ontario, Canada - Seller
Ontario, Canada
"Christine was the best realtor I have ever worked with. She was honest, hard working, upbeat and treated us like family. I can't imagine using anyone else to sell my home. Highly recommended!"
Brian R. - Bradenton - Seller
She Treats Us Like Family
"From the beginning of the sale process until the closing date, Christine is most responsive in answering our questions and resolving small or big issues: Calm, Patient, Confident and Can-Do attitude are sure signs of a professional who knows her trade.
We are quite glad to have Christine on our side and Christine definitely will make sure your interests are taken care of.
A big thank you from Kim and Nghia"
Kim T., Canada - Seller
Sarasota
"Working with Christine to sell our house ( in one day) was a dream. She was on top of everything and had answers to questions we didn't even know we had. We were informed every step of the way. Looking forward to working with Christine in the future. Thank you!"
Kathy R. Bradenton - Seller
She had answers to questions we didn't even know we had
"I would give Christine a five star rating. My experience having her market and sell our property was fantastic. We have purchased and sold many properties in the past we have never had an experience like the one with Christine. We cant say enough about her. But I can tell you there is no one else with the professional experience like her. We cant thank her enough! We would not hesitate to recommend her to any one who is looking to purchase or sell a Florida property."
Louis M. , New Jersey - Seller
My experience having her market and sell our property was fantastic
"We had not intended to bring our property to the market in 2020 but Covid made the decision for us.

We found ourselves in the United Kingdom having made no preparations for sale except having had preliminary minimal contact with Christine.

We explained our position to Christine and asked whether selling from the UK without prior diligence was a practical proposition.

Christine assured us that she would be happy to undertake the instruction. We did encounter several complications during the course of the sale but all were eventually overcome due to Christine's tireless work.

We enjoyed daily contact regardless of the time difference. Christine took on every challenge thrown at her from sort out or socks selling our car, to having many minor repairs to our house carried out.

We count ourselves extremely lucky to have chosen Christine as our Realtor and would highly recommend her."
Carole Bowerman, United Kingdom - Seller
United Kingdom
"Christine was a pleasure to work with in selling our Condo. Not only did she go above and beyond, but she was warm and friendly. She listened to all our needs and responded with much knowledge and professionalism. My husband and I never actually met Christine in person( we live in another state, up north), but we're very comfortable with her guidance. We closed within 3 weeks, above asking price. We highly recommend her for ALL your real estate needs! Thank you, again, Christine.. we appreciate all you did for us!
Donna M."
Donna M., New Jersey - Seller
New Jersey
"Christine was able to work with us living out of state. She drove to the place we found and videoed it for us. She helped us through the entire process. After the sale, she continues to help us get acclimated to our new area. We don't know what we would do without her!"
Ali R., Minnesota - Buyer
Osprey, Florida
"We can't say enough about how wonderful our experience was working with Christine as our Realtor. She was extremely helpful throughout the process of selling our home! From the very beginning she helped us understand the steps along the way and what to expect. She was incredibly responsive whenever we called or texted her with questions, and that was greatly appreciated! Her knowledge and attention to detail were beyond exceptional, working with her made all the difference for us. In fact, when we went to the title company to sign the papers, the staff there even commented to us that Christine is one of their favorite Realtors to work with because she's so detailed and precise in her work. She's highly respected and we can understand why. We're so grateful to have had Christine as our Realtor!"
Celeste R., Bradenton - Seller
Her knowledge and attention to detail were beyond exceptional, working with her made all the difference for us.