Sarasota, Florida, often evokes images of white sandy beaches, cultural richness, and a laid-back coastal lifestyle. But for those considering making Sarasota their home, a crucial question looms large: Is Sarasota an expensive place to live? Of course, it's important to weigh the cost of living against the benefits and opportunities that Sarasota provides.
In this article, we'll dive into the nitty-gritty of living costs in Sarasota. From housing prices to grocery bills, from transportation expenses to healthcare costs – we're leaving no stone unturned.
Florida Cost of Living Overview
You'd be surprised to find out that the cost of living in Florida is actually quite varied, adding another layer of complexity when you're considering making a move.
While some areas like Miami and Naples can be shockingly expensive, other regions offer far more affordable housing options. Keep in mind, though, that affordability goes beyond just housing costs; it also encompasses factors such as taxation rates and healthcare expenses.
Speaking of taxes, Florida has one of the lowest taxation rates in the country – which means there's no state income tax here! This is certainly good news for your wallet. In addition to taxes and housing, consider factors like Florida's climate impact on your cost of living. 
Outdoor recreational activities might require buying specific gear or club memberships, which could add up over time. So, while certain aspects might initially seem appealing about moving to Florida, always ensure you've considered all aspects before making a decision.
Housing Costs in Sarasota
Diving straight into the heart of the matter, it's worth noting that housing costs in this sunny city can make a significant dent in your wallet.
Sarasota's architecture is diverse and appealing, with many homes offering breathtaking views of the ocean or lush greenery. However, owning one of these properties doesn't come cheap.
According to the latest data from Zillow, as of July 31, 2023, the median home value in Sarasota is $458,371 and has slightly dropped by 1% compared to last year. This price is substantially higher than Florida's statewide median home value of approximately $390,052.
While homeowners insurance premiums may be higher in Florida than some other states, property taxes are often lower than other states.
Rent Costs in Sarasota, Florida
Renting isn't much cheaper either. Per Zillow's data, updated August 2023, the average rent for an apartment in Sarasota is around $2,900 per month, but the exact amount varies depending on the location and amenities provided. Neighborhood security also plays a prominent role in determining rental prices; areas with high safety ratings often demand higher rents.
Let's compare rent costs in Sarasota and other areas in Florida.
| | | |
| --- | --- | --- |
| City | Median Rent | Compared to Sarasota Rent |
| Miami | $3,400 | +15% |
| Bradenton | $2,750 | -5% |
| Orlando | $2,110 | -37% |
| Tampa | $2,350 | -23% |
| Jacksonville | $1,704 | -70% |
| Fort Lauderdale | $2,995 | +3% |
| Naples | $6,000 | +52% |
All median costs indicated are from Zillow's latest data report.
Compared to other Floridian cities like Jacksonville, Orlando, or Tampa, where you might find something more affordable, living comfortably in Sarasota does require a healthy income or budget management skills. So, with this information at hand, if you're planning to buy or sell your house in Sarasota, you'll be able to make the best decision.
Food Costs in Sarasota
When it comes to feeding yourself in this coastal gem, you'll find that groceries and dining out can also take a bite out of your budget. According to livingcost.org, the cost of food for one person is $685, while for a family of four is $1,786.
Dining options are varied and abundant, but expect to pay a little more for meals, especially if you're indulging in local seafood or fine dining establishments.
You might want to consider shopping at local markets for fresh produce as it could be cheaper and fresher compared to supermarket chains. Here's some additional information worth noting:
The Sarasota Farmers Market is popular among locals, where they buy local produce straight from farmers, which could help save on grocery costs.

For those who love cooking, there are plenty of seafood markets that sell freshly caught fish daily.

There's also an abundance of gourmet food stores and specialty shops selling everything from artisan cheeses to organic meats, which might be pricier but offer top-notch quality.
Remember, while living in Sarasota may require careful budgeting due its slightly elevated cost of living, the variety of high-quality food options available provide an array of choices for every palate and wallet size.
Transportation Costs in Sarasota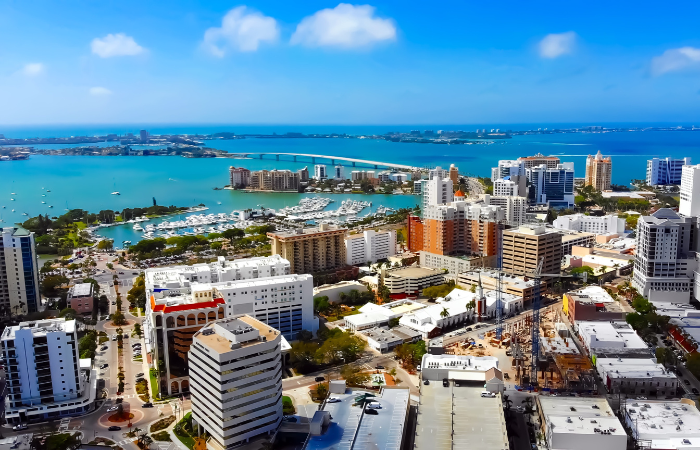 Navigating around town isn't too bad on the wallet, but it's certainly worth considering transportation costs when planning your budget. Sarasota offers a range of public transit options, and if you're thinking about car ownership, there are expenses to consider in that area as well. 
A single ride on the SCAT (Sarasota County Area Transit) bus system will cost $2.00, while an unlimited monthly pass runs at $40.00 – a pretty reasonable rate for daily commuting. If you have plans to drive, remember to factor in costs like car payments, insurance, maintenance, and fuel.
Car Ownership Expenses in Sarasota 
Florida is known to have some of the highest auto insurance rates in the US due to its no-fault laws and high number of uninsured drivers; this is something you'll definitely need to account for. Additionally, gas prices tend to hover around the national average but can fluctuate based on global oil prices and seasonal demand changes. 
According to Bankrate's August 2023 data, the average cost of auto insurance in Florida is $3,183 for full coverage and $1,128 for minimum coverage. On the other hand, the average gas price in Sarasota is at $3.8, according to way.com's latest data.
Again, these are just averages; actual costs may vary based on several factors like vehicle make/model/year or driving habits.
Healthcare Costs in Sarasota
It's disheartening to realize that the cost of staying healthy can really stack up, isn't it?
In Sarasota, like many other places in the United States, healthcare costs are a significant consideration. According to data from the Payscale, the average healthcare spending in Sarasota is 5% higher than the national average.
To give you a better understanding, kindly refer to the table below.
| | |
| --- | --- |
| Healthcare Expense | Average Cost |
| Doctor's Visit | $131.16 |
| Dentist's Visit | $113.16 |
| Optometrist Visit | $123.54 |
| Rx Drug | $483.24 |
| Veterinary Visit | $58.36 |
If you need medication for chronic illnesses like diabetes or heart disease or require different medical procedures, these increased costs could significantly affect your monthly budget. But remember that there are programs available to help mitigate these costs, such as Medicare Part D and manufacturer discount cards, which may lessen this burden somewhat.
Education Costs in Sarasota
When it comes to education, Sarasota offers a range of options, from public schools to private institutions. Understanding the costs associated with education is crucial for families with school-aged children or individuals pursuing higher education.
For higher education, Sarasota is home to several institutions, including colleges and universities. However, it's essential to consider tuition and fees, as they can vary significantly.
According to College Tuition Compare, for the academic year 2022-2023, the average tuition and fees of undergraduate colleges in Sarasota, FL., are as follows:
In-state students: $6,689 average tuition and fees of undergraduate colleges in Sarasota, Florida

Out-of-state students: $19,480
These figures indicate that out-of-state students pay significantly higher tuition and fees compared to in-state students. Additionally, the data suggests that the cost of attending colleges in Sarasota, Florida, is higher than the national average for both types of students.
For comparison, the 2023 national average tuition is:
In-state students: $6,963

Out-of-state students: $12,914
This means that the tuition and fees for in-state students in Sarasota, Florida, are slightly lower than the national average, while the costs for out-of-state students are considerably higher than the national average.
If you're considering higher education in Sarasota, it's essential to research scholarship opportunities, financial aid options, and part-time work possibilities to help offset these costs.
Entertainment and Leisure Costs
You'll find that factoring in the cost of entertainment and leisure activities into your budget is a must, as these expenses can significantly impact your overall living costs.
In Sarasota, cultural attractions' pricing can vary greatly depending on what you're interested in. For instance, admission to world-class venues such as The Ringling Museum or Sarasota Opera House ranges from $25 to $100+ per ticket. 
If you're an avid theater-goer, season tickets for the Asolo Repertory Theatre cost an average of $136.75. Additionally, outdoor festivals like the Sarasota Film Festival or Music Festival also require ticket purchases, which add up over time.
On top of this are the beach activities expense which is another popular form of entertainment in Sarasota due to its prime location on Florida's Gulf Coast. Renting a kayak or paddleboard for a couple of hours typically runs about $30-$50, whereas fishing charters often start at around $200 for a half day trip. 
However, it's not all costly – some beach-related activities like swimming or sunbathing are free of charge if you bring your own equipment. Parking is usually free at public beaches although there are a few places where you may pay a nominal parking fee. 
The Bottom Line
Overall, the cost of living in Sarasota, Florida, is 6% higher than the national average. While it offers a picturesque coastal lifestyle and rich culture, it's essential to be aware of its associated costs. Housing, food, transportation, healthcare, and education expenses can be significant factors to consider when planning to live in Sarasota. Careful financial preparation and budgeting are key to enjoying the city's unique offerings while maintaining financial stability.